Anna (my Montessori studymate, whom is working as a MAS stewardess) smsed me last Tuesday, to informed me that she'll be in KK till Thursday. So, last wednesday brought her for dinner at the seafood place in Tanjung Aru Beach (Forgive me, but I cant seemed to remember the name of thet place). We, or rather she, was entertained with the Sabahan traditional dance performance.

We ordered makan, inspite of me her had to take care of my her weight, we ordered Yummy Butter & Milk Prawn, Sabah Vegie with Sambal Belacan & Sweet Corn with Fresh Crab Meat Soup. Kenyang juga!! A meal for 2 person, 1 huge & 1 tiny size! Hey, mind you, this friend of mine really kuat makan..

The part that really grossed us out was when Anna was helping herself with the prawns, and suddenly she spotted a lil life snail.. errkkk!!! hiding between the lettuce! Imagine if either one of us took a bite of that poor molusc!

After makan (we took ages to finish our meal coz Anna's professional advice to eat slowly... wont gain so much, which I think works on her), we went to get drinks at San Francisco Coffee and sat at the beachfront.. Romantic.. except wrong partner! haha!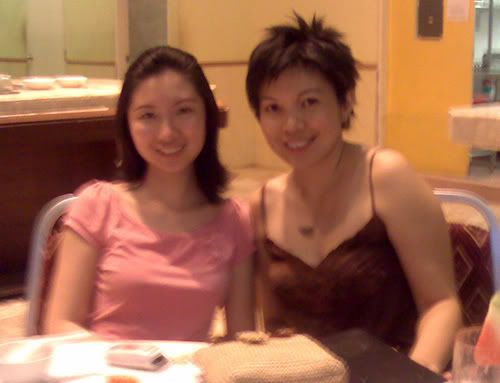 She's a lovely lady to spend time with! (my photo very blur-blur.. You should see Anna took like 100 shots of us using her camera and still not satisfied with the quality.. yeah.. blame it to the dim lighting)