Another interesting Montessori article.. from www.montessori.org

...mother asked me what was it about my house that made it "Montessori."

...I think of what Montessori has to say to me as a parent that is most meaningful, it is the understanding that even at a very young age children are capable and are eager

to act independently

. This they can do most simply in the

routines and rituals of everyday life

. By setting up a home environment that enables children to take care of their own self-care throughout the day, the home environment can help the child develop independence and a strong sense of self. We can support our children to be able to say: "

I can do it!

" and "

I did it myself!

"

When we design an environment for them that helps facilitate self-care, we encourage our children to be independent at an early age, and we even make our jobs a little easier in both the short and long run! [Read more..]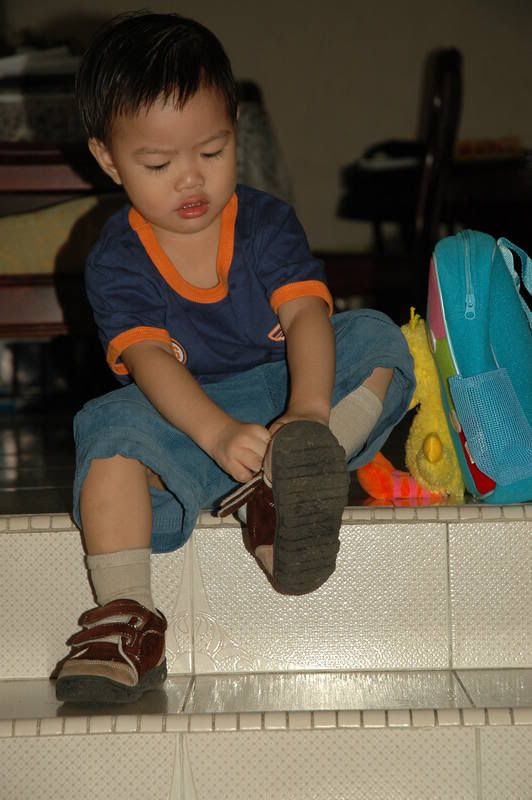 Being able to do things on his own boosts lil C's confidence and self-esteem. He is able to put on his own
shoe
before he turned 2, put on & take off his pants just after 2 and now he is able to put on both his shirt and pants. The best part is that when he did it all by himself, he'd say "
I did it, I did it myself
".
It is very satisfying, seeing him growing up and being able to do lots of things that we normally do at home.
He loves being in the kitchen, having dinner with family. I will always ask him if he wants to help.. and that he will decide by himself, a simple
yes
or
no
! and I respect his decision. Most of the times, he will be very eager to help setting up the dining table by arranging the plates and the spoons/forks! He knows that kungkung uses chopsticks and the rest of us use spoon/fork. ;)